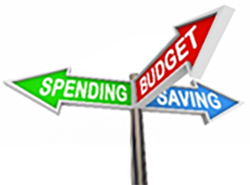 It is that time of year! No, not the holidays, but it's budget planning time!
This process is usually a challenging time for the leaders of companies. Then you throw in a pandemic and well……. things just go awry!
Nothing will blow a budget quicker than an unexpected repair bill or a large unplanned expense. As a budget planner you know that most issues are avoidable if planned for ahead of time and you are not a person that believes "things just happen". So, here is how a Preventative Maintenance program can help your budget:
REASONS TO KEEP OR ADD PREVENTIVE MAINTENANCE TO YOUR BUDGET!

#1 – Reduction in HVAC downtime
A routine Preventative Maintenance program is designed to help keep your HVAC equipment running at optimal condition. It is designed to help prevent deterioration of parts and keep a small problem from becoming a big problem. System failures can make your work environment uncomfortable and be catastrophic to your budget.
Tasks such as filter changing, cleaning of condenser coils, and checking the electrical system and connections are vital to your HVAC. Example: Over time coils build a layer of dirt, grime, and dust over the coils that prevents the system from releasing heat. Eventually the system overheats and could cause the compressor to fail. Therefore, resulting in a Huge Expense!!
#2 – Energy Savings
Equipment that runs at optimal performance saves in Energy expenses. When your HVAC system is not running at optimal performance; such as the coils getting clogged the system then must work harder and run longer to reach set temperature. This means you are using more electricity, creating higher electricity bills, and the HVAC system is wearing down which could result in an unexpected repair or replacement.
When your system is working at maximum efficiency and being maintained regularly the small problems will be taken care of and there should be at a minimum no Big Problems and No Big Expenses!
#3 – Budget Planning & Expense Forecasting
Another important reason to keep your maintenance plan in the budget is for HVAC replacement. When you have a preventive maintenance program in place, you will be updated on the condition of your HVAC equipment. And when the time comes to replace that equipment you will be prepared for that replacement. Equipment replacement is a transition that we will all be involved in due to the recent changes in R22 coolant.  Prior planning is always better for the budget than a rushed emergency equipment replacement.
IF YOU HAVE ANY QUESTIONS ABOUT HOW TO BUDGET FOR A PREVENTIVE MAINTENANCE PLAN PLEASE GIVE HARDY SERVICES A CALL AT 205.591.5678
#HARDYMAKELIFEBETTER