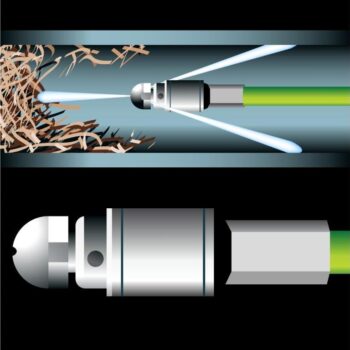 Just as Sir Elton John had a hit with a similar name, jetting can hit the clogs and low flow issues that your system may be experiencing with the power of water to shake it loose.  So……
 WHAT IS COMMERCIAL JETTING 
Commercial high-pressure jetting is a simple, effective, and eco-friendly way to clean your sewer line and drainage system.  Jetting uses the power of water through high pressure hoses with specialized nozzles to clean the inside of your system and remove any build-up that may exist.  This could include grease, sludge, sand, hardened scale, and can even remove roots that have penetrated your system.
BENEFITS OF COMMERCIAL JETTING
It's EFFECTIVE 
Jetting is one the most effective and efficient ways to remove clogs and blockages from your plumbing system.  The high-pressure water reaches every inch of your drainpipes, ensuring a clean system from beginning to end.
It's ENVIRONMENTALLY FRIENDLY
Jetting uses water to clean your system in place of harsh chemicals that can harm the environment.  Most jetting machines will use a small amount of fuel.  But we also have jetting machines that are electric and are safe for indoor use.
It's GOOD PREVENTIVE MAINTENANCE
Have you experienced a system clog at the most inopportune time? A quarterly or annual jetting maintenance program is the best way to ensure that your plumbing system remains effective for years to come.
If you have experienced constant clogging or slow draining issues in your system, perhaps our team can resolve your issues with our jetting service.
KEEP HARDY SERVICES IN MIND FOR ALL HVAC, PLUMBING & CONTROL NEEDS