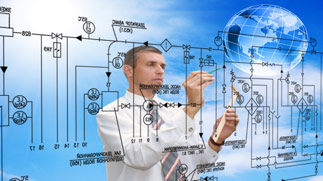 Today's Building Automation Systems serve as the central nervous system for Commercial HVAC Systems.  These systems monitor and regulate the performance of the Heating, Ventilation, and Air Conditioning year-round.  Here are just a few examples of how a Building Automation System can be beneficial to you and your commercial HVAC system.
Control
Building Automation Systems allows you the control over the buildings environment.  Whether you are in the office or out and about you can control the set points for the system, monitor the effectiveness of the system, and ensure comfort throughout the building.
Consistency and Comfort
Building Automation Systems can help maintain a more even temperature throughout the spaces you specify.
Lower Utility Bills
According to a report published by Energy.gov in Sept. 2017, on average, installing a Building Automation System can decrease your utility costs up to 29%.  This savings could help offset the cost for a Building Automation System.  Then combined with a Preventive Maintenance Program (PMP), could lead to even more of a savings on your utility costs.
Less Time on Complaints
Facilities that have temperature fluctuations tend to receive significantly more complaints in the maintenance or facilities department.  These complaints can be time consuming to address as well as taking time away from other facility needs.
Less Downtime
Downtime in a production environment is costly.  It's not only costly in terms of revenue but also expensive on the immediate repairs.  Building Automation Systems can significantly reduce downtime by extending the life of your HVAC equipment and by providing warnings on potential system issues before they arise.
PLEASE CONSIDER HARDY SERVICES FOR YOUR BUILDING AUTOMATION SYSTEM NEEDS
LEARN MORE AT WWW.HARDYSERV.COM