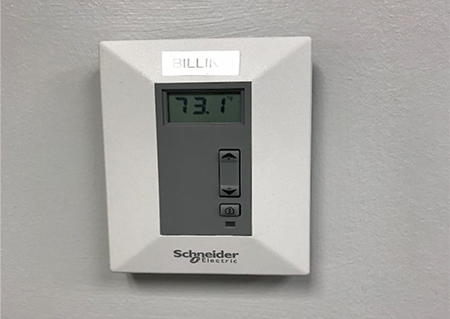 Programmable thermostats have been the "buzz word" now for some time in the residential and commercial climate control arena. It doesn't take an "expert" to come to the conclusion that programming a residence is very different that programming a large commercial facility. This blog will address specific challenges on maintaining and controlling climate in a commercial facility.
Energy Management Tips
Geographic Location
Having a Controls Team working with you and recognizing your climate is important. After all, changing temperatures, humidity levels and other factors contribute to the challenge of controlling climate in a facility.
Size Matters
The size of your commercial building does affect the placement and distribution of programmable thermostats. Support from professionals will help.
Ability of occupants to adjust temperature
Making a plan on who can adjust the temperature is very important. If it's an "all hands on" approach, the temperature will never be stable and the energy bill will drive the Accounting Department crazy! A Controls Team will put the people in control that needs to be.
Multiple Buildings
If you are a business that has different locations, alerts can be set up for all locations and sent to the control person at each location. When you have the ability to monitor and control from one central location it saves on energy consumption and the expense of sending one person to each site to make changes. By using "cloud technology" controlling temperatures in multiple locations is easy to do with certain programmable thermostats.
Type of HVAC equipment
Not all HVAC equipment can be paired up with any programmable thermostat. It is important to have a relationship with a local Mechanical Contractor that provides a Team of experts. A worthy contractor will have an inventory of your HVAC equipment and be able to provide all the service work on the HVAC equipment. This will help in selecting a programmable thermostat.
Consider Hardy Services to help with any HVAC, Plumbing & Controls Needs
Hardy Services, "Making Life Better"!