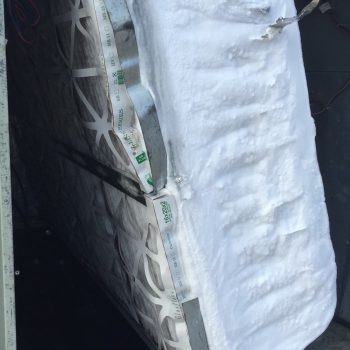 News flash, it is Summer, it is HOT! The last thing you would expect to see is ice on the coils of your HVAC system.
Below are a few potential causes for frozen coils on your HVAC system:
Dirty air filters may cause frozen coils
Your HVAC needs clean airflow throughout the system to function properly. Dirty filters can obstruct air from getting in and out of your system. If the air does not circulate around the coils, the coils get too cold, and lead to ice accumulation on the coil.
Broken fans can decrease airflow and cause coils to freeze
Even if your filters are clean, it will not help unless the fan is pushing air through the system.
If your fan has a broken motor, or dirty blades, this can cause a decrease in airflow that could lead to frozen coils.
Condensate line issues
Condensate lines are the part of your HVAC system that drains away the excess moisture from humidity. This moisture, condensed into water, travels through condensate lines to drain. Lines that are clogged, broken, or do not have the proper pitch, can freeze resulting in ice accumulation. A common place for obstruction happens near the evaporator coil, which is the coldest part of the HVAC.
Malfunctioning thermostats
Your thermostat works with your HVAC by regularly checking the temperature and controlling the amount of conditioned air your building needs to stay at the desired temperature.
If the thermostat is malfunctioning or does not read the correct temperature in the space, it could cause the unit to run longer than needed. Left unchecked, an overworked HVAC unit could develop frozen HVAC coils.
Refrigerant leaks are a common cause for frozen coils
Refrigerant is the chemical that runs through your HVAC coil, it regulates the temperature by absorbing heat inside of the space. When refrigerant leaks, it will affect the cooling process of your HVAC system, which causes condensation on the coil to freeze.
KEEP HARDY SERVICES IN MIND FOR ALL HVAC, PLUMBING AND CONTROLS NEEDS
Call us at (205)591-5683 or visit us at www.hardyserv.com